Here's another controversial one for all of you, I'm sure. Bands are personal right? Music means something new to everyone, just like movies. But we made it through that one, so I'll share with you what I personally think are the top five steampunk bands and even share the songs with you that made me like them so well. With that, lets get started!
1. Steam Powered Giraffe
From what I can tell, they're rather popular in the steampunk music scene. I mean to describe them, but really, their Youtube description is far better than I can say. "Three military robots developed in the 1890's whose skills are no longer needed by the long-dead men who created them. Instead, they have turned their mechanical precision to harmony, which they would like to share with you through these videos." I believe this is probably the best band description I have ever seen on Youtube. It's both humorous and somewhat literal, their performances are acted out by these 'androids', jerky movements and sometimes androgynous appearances included. They are really all about performance, and they got their start as streetside buskers, singing their own original songs from every genre.
2. Professor Elemental
 This guy is really funny in his music. He's described as chap hip-hop on his Wiki page, which is a new term to me. But, he makes humorous song, like 'Fighting Trousers' and 'I'm British.' He has represented steampunk in several major shows, including a headliner at the Steampunk World's fair. He's also broken into the kid's world, appearing as a character in the Disney show "Phineas and Ferb." I find him quite hilarious, and have found many other steampunk bands in his video for 'All in Together,' including Mr. B, Steam Powered Giraffe, and members of the Eccentric club.
3. The Cog is Dead
This time- travelling group is out to prevent the fall of steam power and analog clockwork, and to share their songs while they do it. Since they've traveled all over the world at different times to stop the fall of steam, they've got an eclectic group of inspirations. Everything from folk music to rock and roll, and even movie scores (personally, I detected a bit of Moulin Rouge inspiration in 'Danger on the Dance Floor'). They tend to tell deeply interesting stories from their travels, from 'Death of the Cog' which indeed talks about the fall of analog clockwork, to 'Burn it Down,' about a group of disgruntled workers ending their own lives in trying to get revenge on their employer. I recommend them, the eclectic style makes them pretty appealing to most people.
4. Sunday Driver
Sunday Driver actually didn't start out as a Steampunk band. Originally, they were a mix of English folk music and Indian influences. While they still have many of the same influences, their songs like Mechanical Angel and Concubine Waltz made them very popular in the steampunk world around 2009, when they were the opening band at the first ever Asylum Steampunk Festival. Since then they have played quite a few festivals, and even played main stage at the Steampunk Festival.
5. Abney Park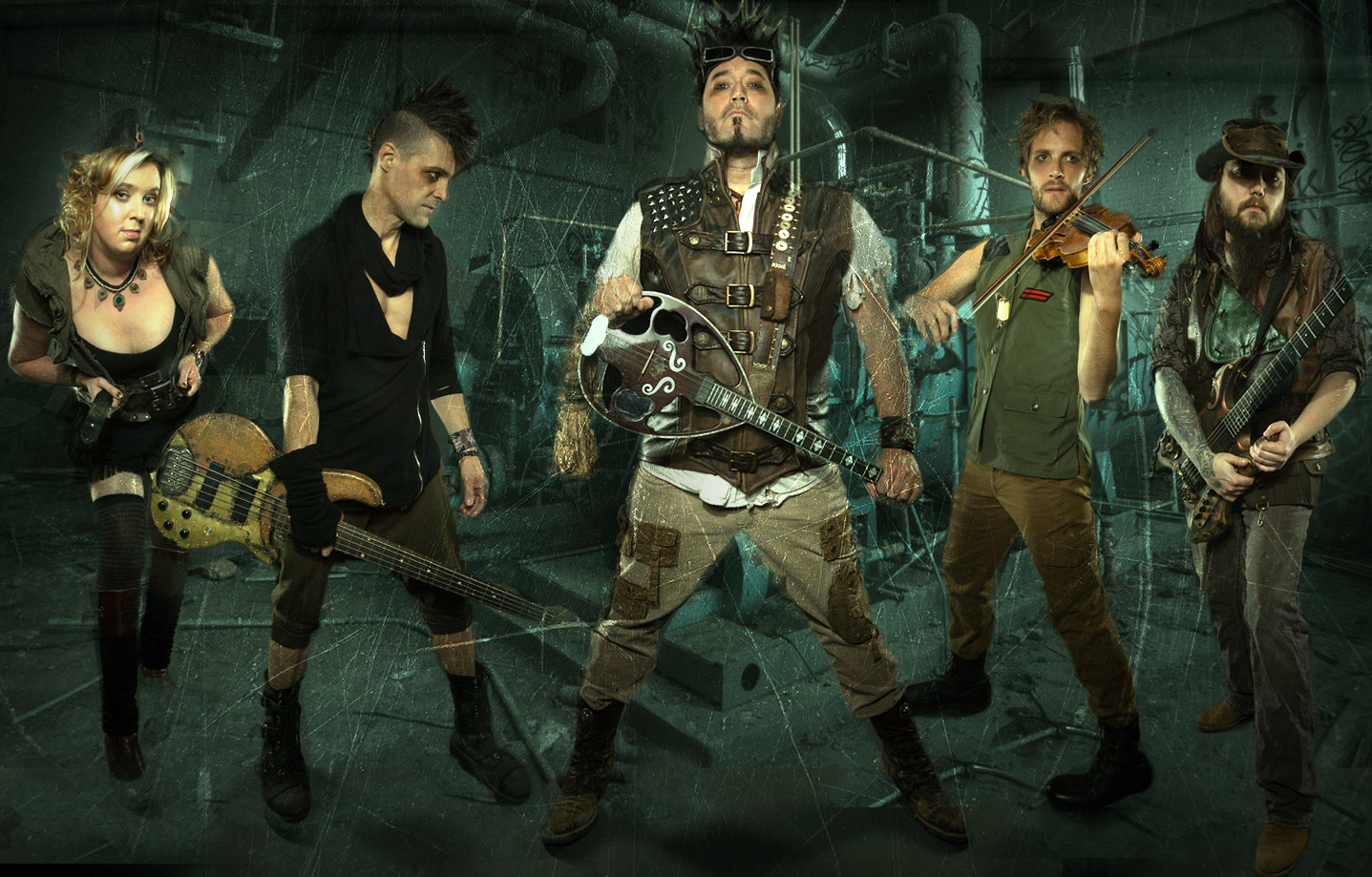 I'm of the belief that music is in the eye of the beholder. That's the case here. Abney park is one of the most well known and loved steampunk bands that I was able to find. But, I'm not an enormous fan. So, out of sheer respect for them and their massive following, I have to add it in here. They mix world music and Steampunk lyrics with industrial dance, and they've been called the quintessential steampunk band, even a spokespeople for steampunk. This is why, in no good conscious could I ever ignore such a huge influence and inspiration. Death of the Cog found inspiration in them, and Abney park was actually the only steampunk band they were aware of when they joined the scene. That's pretty darn influential!
Well, there you have it. Music is a part of being human, and every human(or android, they clearly enjoy it too) has their own style. Steampunk is super varied, folk, electronic, rock, it draws inspiration from everywhere! Hopefully you like the bands and have found something new to enjoy!